7 April 2011
"I've always been known as Mike, just mean old Mike."  The movie Breaking Away directed by Peter Yates discusses the story of four teens and their life in a small town of Indiana.  It's about "breaking away" from mediocrity. It's about finding a way to not be the typical blue collar worker in the town of Bloomington, Indiana and making a name for yourself. It's the story of Dave Stoller, his parents and his three friends.  Stoller is living in a fantasy world with more than real possibilities.  He sings and dreams of being Italian, and most of all cycling.  After his parents force him to stop living in fantasy, especially his father who believes in clean cut hardworking attitude, he begins to conform
"I'm a cutter, don't you know," says Dave Stoller.  He had just realized his dreams, racing against the Italian cycling team who made an appearance in Bloomington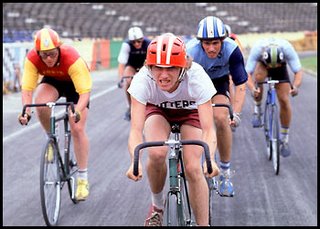 .  But he had lost and realized that cycling maybe wasn't all it was cracked up to be.  But "pep talks" from his father and his friends give him the motivation to keep at it.  "You're not a cutter….are you afraid," said a wide eyed Stoller's father.
Dave had never been afraid; he had always been a champion in his eyes.  He wanted to prove the world of his abilities, and he would do so that day in the 500k bike race in Indiana. After Dave is injured during the race he leans on his friends to help him win, and of course the cheer of his parents from the sideline. A tapped leg and knee he was back on the bike.
"Bon Jour Papa," chuckled Stoller in the accent his father hated.  His father turned back and looked.  He couldn't prouder of his son.
No Comments currently posted.
Post a comment on this entry: