3 May 2011
Have you ever witnessed something so shocking, it was as if you were glued to your seat? Back in 1977 its was just one wrong move that would change the life of a basketball player and the NBA for good.  It is known as the punch and is the subject of a book by John Feinstein titled "The Punch: one night, two lives and the fight that changed basketball forever."
Feinstein chronicles the lives of both Kermit Washington and Rudy Tomjanovich as they begin to take flight in the competitive NBA.  He highlights one game in which the Los Angeles Lakers are taking on the Houston Rockets.  The Lakers In just a few seconds on December 9th, 1977 the lives of these two men would be enshrined in history forever.  It was Lakers Kermit Washington who threw the punch that basically ended Tomjanovich's career.
Tomjanovich recalls the night, and said " I thought the scoreboard had fallen."  A punch thrown with that ferocity and anger had shaken the very foundations of the NBA.   It eventually took a few years after that for the NBA to realize that you couldn't let men that big and strong throw punches at each other.  As of 2010 any player that attempts to punch another, even if he misses is automatically ejected and suspended.
In the book by Feinstein, he uncovers a vulnerable peace of NBA history.  The book uses strong accounts from NBA player new and old to create a logical account of that night.  Times are always changing, and the way the incident is perceived changes.  All this is taken into account in the story of one vicious blow and its ramifications in a bittersweet world of sports.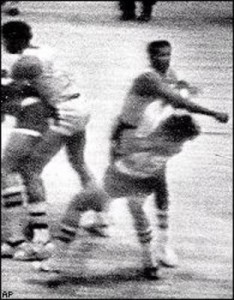 4 Comments currently posted.
Post a comment on this entry: